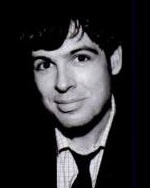 Word: Iron
Guest: Brian Raftery
Bio: Brian Raftery is a writer of books, articles, and stories. In terms of publications he's written for Wired, New York Magazine, GQ, and SPIN. His first book, which looks at the world of karaoke and its impact on his life, has a title that he is not fond of so I won't name it here and just let you click this link to buy it. Brian has also added significantly to one of my favorite genres of journalism: the oral history. Please enjoy his great oral history on the TV show Cheers, and be sure to buy his forthcoming e-book: an oral history of the Upright Citizens Brigade. Links to his many articles can be found at his website, brianraftery.com
Discussed: Secret Papa John's nights, Gentleman's Quarterly Monthly, the appeal of Scientology, and the giant commercial that is SXSW.