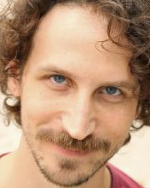 Word: Names
Guest: Rob Michael Hugel
Bio: This guy's all over the place! Rob is improvising and acting all over the stages at UCB, on the sketch team Onasis, and improv teams That Annoying Couple, Old Maid, and SLUG. His webseries "I Hate Being Single" is, first of all, great, second of all, coming back with a second season very soon, and third of all, award winning! You gotta check it out! He's also appeared on Late Night with Jimmy Fallon, as well as Broad City, (Ramsey Has a Time Machine yeah, I'll plug my own show in someone else's bio, so what?), and Very Mary-Kate!
Discussed: Generically named festivals, Ke$ha's dollar sign, and convoluted methods for replacing shower curtain linings.