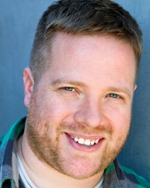 Word: Kryptonite
Guest: Michael Hartney
Bio: If you've seen a show at the Upright Citizens Brigade in NY, there's a good chance you saw the very busy Michael Hartney in it. He's an actor on The UCBT Maude Team The Prom, has written his own show "So I Like Superman: A One-Nerd Show" and for the UCBT team Arbuckle, and has acted in about a billion different shows over the past few years. You may have also seen him on your TV on 30 Rock or in a number of different commercials for Hanes, AT&T, Time Warner Cable, and others. He also runs a hilarious Twitter account, an equally hilarious Tumblr account, and currently hosts a character showcase show at the UCBEast called Characters Welcome. See? Busy!
Discussed: Various failed television shows, Five for Fighting, stolen vehicles, and Jurassic Park 3D (in theaters now)!