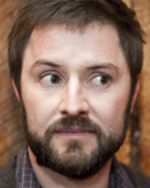 Word: Mob
Guest: Adam Cayton-Holland
Bio: Adam is a comedian from Denver, Colorado who is busy producing a lot of great stuff. Don't believe me? Well, allow me to give you some examples. He has a great podcast called My Dining Room Table. He has a hilarious Twitter account. He's been on Conan. He has an album on iTunes called "I Don't Know if I Happy." And along with the rest of his comedy team The Grawlix he's made a pilot for Amazon called "Those Who Can't." See? Lots of great stuff.
Discussed: Crows flying, Schrödinger's cat, pig protests, and this darn heat!