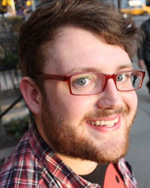 Word: Blue
Guest: Dan Chamberlain
Bio: Dan is a busy bee, but instead of honey he creates quality comedy. Here's just the tip of the iceberg in terms of the stuff he's making: he's a member of the Maude team Fambly, he's a co-writer/co-producer of the sketch comedy podcast Left Handed Radio, he's produces some super awesome mixtapes under the name Chambaland, which you can download for free on his Tumblr, and he's also good at Twitter. Now enjoy.
Discussed: Sportscasters, American Top 40 Radio, slamming doors in front of parents, and podcasts about podcasts.