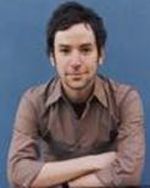 Word: Sports
Guest: Andy Greenwald
Bio: Andy is a writer over at the sports/entertainment blog Grantland for which he covers all things pop culture. He also hosts the Hollywood Prospectus podcast for the site, along with writer Chris Ryan. Andy has written two great books, Miss Misery, a novel, and Nothing Feels Good, which looks at the cultural movement behind punk and emo music. In the past he's also written for Spin, The Washington Post, Entertainment Weekly and a bunch of other things. He's also a super friendly guy.
Discussed: The acting of politicians, dads coaching, what it's like to interview Moby, and having gum.