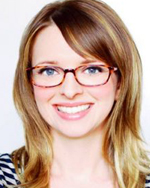 Word: Chorus
Guest: Morgan Grace Jarrett
Bio: Actress and improviser Morgan Grace Jarrett is super funny and literally one of the funniest people I know. You might recognize her as the face of the Today Show Concert Series and all kinds of UCB shows. She is an improvisor on the team "Grandma's Ashes" (which performs every Saturday at the UCBEast and they're amazing, so you definitely should). She's also currently in the show The Bachelor: Romance, Roses and Romance and co-hosts the Lady Improv jam Ladies Night: Men Welcome. So many chances to see this talented lady perform, but if that's not possible for you, here you go: Twitter, Tumblr, official site. Enjoy!
Discussed: Joss Whedon, bullies, Joy the Baker and significant others.