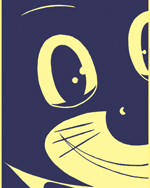 Word: Adventure
Guest: Michael Kupperman
Bio: If you like things that are funny/well drawn/cool then you probably already know about Michael Kupperman. The man is absolutely killing it on Twitter, he currently makes the fantastic comic Tales Designed to Thrizzle, he has previously made the thoroughly hilarious Snake and Bacon's Cartoon Cabaret and he has just released the great Mark Twain's Autobiography 1910-2010. If that's not enough, check out his live comed show he does with Kate Beaton the fourth Tuesday of each month at Luca Bar! Patronize one or all of these things!
Discussed: Twenty-ten versus two thousand ten, new Doctor Who, schooling.
fantagraphics reblogged this from wonderfulthanks
fantagraphics likes this
wonderfulthanks posted this