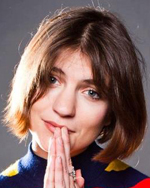 Word: Brass
Guest: Bridey Elliott
Bio: This is Bridey. She's a super funny actress an stand-up comedian living in New York City. She's been in a number of great sketches online, has appeared on Eagleheart, and runs a wonderful Twitter account over this a way. Stay in touch for her various shows around the city and go, go, go!
Discussed: Our big Sleep No More-esque show premiering soon, tight pants, inherited beds and the good people at Progresso soup.