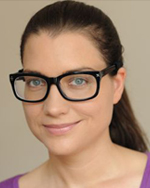 Word: Fish
Guest: Silvija Ozols
Bio: Silvija is one of the UCB's finest talents. She's a member of the legendary improv team The Stepfathers, the Maude Team Dinner, and the Beta Team The Punch. She's also in the UCB Touring Company, the indie group Rouge Elephant and the Harold Team Creep. I believe that is literally every possible team activity one could do at the theatre, so needless to say: Silvija funny.
Discussed: Crackers, self-effacing rappers, and chain restaurants.