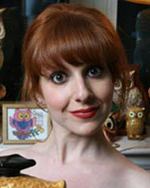 Word: Classic
Guest: Julie Klausner
Bio: Julie is the super funny and prolific host of the great podcast "How Was Your Week?" and writer of the book I Don't Care About Your Band. In addition to that, she's written for all kinds of TV shows such as TV Funhouse, SNL, Billy on the Street, and has written for publications such as The New York Times, Spin, Salon, and billions others. Also, Twitter.
To put is succinctly, she's awesome.
Discussed: The cannibal cop, Archie conventions, umbrella inventing, and Mormon film editing.